Environmental specials
World Environment Day 2015
Every Action Counts
Content: World Environment Day 2015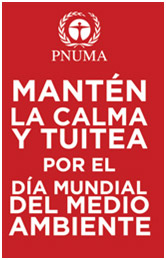 World Environment Day is a time to recognise that taking care of Planet Earth is a job for everyone and a day to become agents of change.
Last year, World Environment Day was mentioned in a total of 200,000 blog entries and in more than 26,000 news articles published between 1st and 10th June 2013. The videos on World Environment Day were seen by nearly 120 million people. With 200 million active Twitter users, World Environment Day became a trending topic in at least 15 countries on 5th June, and also led to an estimated figure of 47.6 million Facebook impressions.
This year, let's make our voices heard on the net, tweeting for the islands, climate change and the environment.
Previous: Important activities to be carried out